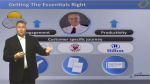 Ceridian – Before and After
I recently delivered a seminar for a client of ours, during which I talked the audience through before and after slides and an explanation of why we'd changed them. They asked us to record the slides, so I thought I'd also record a copy to share with you! The presentation slides focus on the modernisation of HR, and how 3 separate areas are key to driving this.
This is how I helped Ceridian move away from using bullet points and start using audience-focused, effective visual slides.