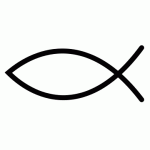 Presentation Iconography
If a picture paints a thousand words, why do we use thousands of words and one picture (pie chart!) in our presentations?
When, how and why should we use icons in a visual presentation?
Iconography is often associated with art or religion (Cross, Star of David, Ichthus  (little fish shape used by Christians during times of religious persecution now seen on the back of cars) but the idea of using a small image as a symbol has a long tradition.
Modern usage can be blamed on Apple, the mass of computer graphic interfaces needing icons for every application and function at your fingertips. But, in essence the benefit of using icons is that they bypass the language centers of the brain. They speed up information transmission and reduce the amount of cognitive load needed to assimilate information, and idea or concept. Think about using a computer that displays text in a foreign language—on the whole you'd still be able to do quite a bit because the program and function icons all transcend the language barrier.
Iconography in Presentations
An icon is a type of symbol—an age-old way of eliminating the confusion delivered from the imprecise nature of language. In a presentation we use iconography to do four things:

Allow the simplification of complex ideas. (Build on simple ideas to create more complex ones)
Avoid confusion
Speed up information transmission
Create Visual Cognitive Dissonance (causing the audience to question what the icon represents)
Presentation iconography, when done well, is part of developing a 'Visual Lexicon' which is a collection of non-language dependent symbols that convey concepts, ideas or consequences, between presenter and audience. At a basic level that includes:
Tick marks
Cross marks
Company logos
STOP signs etc
These all work because they reduce cognitive load (mental effort) by bypassing the phonological loop (phonetic rehearsal system inside your head) therefore passing information 100 times faster than text (or speech). Familiar icons like the above are good practice but must be graphically consistent (a series or green ticks followed by a red one will invoke dissonance).
Do You See What I See?
But there are issues, the biggest of which is the assumption that icon meanings are as clear to the audience as they are to the presenter. As with all lexicons, it needs to be shared if it's to work.
The Ichthus example above started life as a secret symbol, a way of communicating only to the people who knew about it. Many icons are culturally or contextually dependent. For example, in the UK we often use the Lloyds quality logo to represent quality, but across the pond it doesn't translate.
Some are references that require contextual interpretation. My favorite line in any song is Don Henley's Boys of Summer,  "I saw a dead head sticker (symbol of 60's hippy anti-establishment movement) on a Cadillac (symbolizing all that Capitalism has to offer.)" While I love everything that line says about life, growing up and the selfishness of age, I tried to explain it to some of my scouts the other day and completely failed, they didn't get the complex ideas represented by the simple symbols.
The moral to the story is that every time you show an audience an icon or for that matter any kind of symbol, its worth commenting on what it is, what it stands for and how you are using it.
So my top 5 tips for icons are:
Use as much as you can
State what they are
Be contextually consistent
Be graphically consistent
Be sensitive (Swastikas can be used to represent lots of ideas but they pretty much always going to offend somebody)