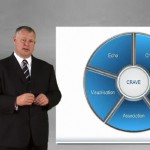 Learning Techniques Your Audience will CRAVE
"I wish I knew then what I know now."
Partly because last weekend I spent a heart-aching evening watching my scout troop – 14-18 years old – as they struggled to cope with the dress and demeanour of their female counter-parts at a barn dance. But mostly because I have been recording the presentation for the University of Central Lancashire (UCLAN) for first year undergraduates to try and encourage active learning rather than passive participation.
Although it is a cliché, I do wish I had had this knowledge back when I was a student – life would have been so much easier had I really understood how to learn.
This is a reversal of another kind for me since I generally teach or sell ideas, rather than teach audiences how to learn. But my experience in making content engaging and memorable also applies to those trying to remember what they have been taught.

Here is a mnemonic device called CRAVE I use in presentations:
Chunking: Break the information down to manageable chunks
Relevance: People learn what they need to, if they see no need, they don't learn it
Association: Storytelling, case studies, fables or parables, essentially linking ideas together.
Visualisation: Enabling the audience to spread cognitive load across multiple information processing systems
Elaboration: Repetition or rehearsal both rote and elaborate.
My wife and I use these techniques to help our kids study and I am now beginning to apply them to teaching scouting skills, however, thinking through how you would apply these processes during a university course has been an interesting experience.
A common understanding of the learning process bridges the gap between teacher and student.
Nobody taught me how to learn, did they teach you? Why not? Why don't we take time to teach people how to encode and apply information? When I work with presenters, I naturally practice the techniques I am teaching. Now that I am spending more time teaching in the non-commercial world of scouts, I'm finding the need to teach learning skills simply as a way of explaining my actions.
So here is how I explain learning as a three stage process:
Attention – kind of obvious, you can't learn something you didn't pay attention to, so we create intentional gaps in information (visual cognitive dissonance) to keep the audience engaged. I encourage students to not only question what they are being taught, but also why they are being taught it – an essential step in the learning process.
Synthesis – is the process of moving the information you are paying attention to into your long term memory. It's not a linear process. You must break down the whole subject into chunks and associate the pieces to existing, relevant information already stored in your long term memory. Processing the information on more than one cognitive level – visualization – and finally the echo – repeating these activities to firm up the new information's place in our LTM.
Retrieval – the final stage of learning is creating the capacity to share and use information. The ability to recite facts doesn't really demonstrate learning – you must be able to use or those facts to truly benefit from the learning. Retrieval also prevents memory loss! Clearly, the more you use information the less you forget it.
Understanding the learning process is an essential part of designing effective presentations. As I work more with the scouts, and now with university students – tough audiences both – I realize how just how much this holds true. Please give me your thoughts on the matter – and your suggestions for making sure people remember the message you are trying to deliver.
Crave Learning Video