Killer Presentations Book
Power the imagination to visualise your Point with PowerPoint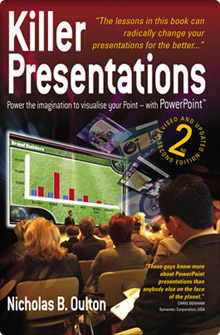 Killer Presentations was written nearly 10 years ago and was based on my experience from 5000 presentations. Now, 10 years and another 5000 presentations, since putting pen to paper little has changed. There are a few more experts talking about what we should or shouldn't do in our presentations but by and large the practical application of this is lacking. PowerPoint is still used as badly as ever. Newer versions of the software haven't solved the issues which aren't with what PowerPoint can and can't do but are about what people actually do with it.
PowerPoint is used over 30 million times a day… Badly! Boredrooms all over the world are still ringing with the sound of defeat. Audiences battle to stay awake, as presenters abuse them with slide after slide of bullet points.
Badly constructed arguments
Badly target messaging
Too much information
Too much text
Too little thought
Essential information lost in a sea of text
Irrelevant information illustrated with clip art and photographs
The presenters aren't winning and the audiences are losing… The will to live!
I want to change that. Change the use of PowerPoint and you change it's effect;
Boring can become Engaging,
Dull can become Memorable,
Pointless can become Effective
The book contains over 100 examples of slides and sequences from real presentations, all created within old versions of PowerPoint. No flash, No Photoshop just PowerPoint 2000. It's not about how to use PowerPoint but how to think about presentations before you use PowerPoint.
Sample Chapter:
Download the first chapter of Killer Presentations
Book Sales with accompanying CD
Killer Presentations is available from info@m62.net
Book Resources: