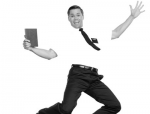 NLP: Nothing Like Properscience!
About every other course somebody asks me about how Visual Cognitive Dissonance (VCD) sits with Neuro Linguistic Programming (NLP). My tongue-in-cheek response is that VCD is based on science and, as far as I am aware, is consistent with all the major religions, and so almost certainly consistent with the minor ones such as NLP.
Why do I compare NLP to a religion? Looking at the research, it's at best inconclusive and at worst labeled as pseudoscience. Linguistics isn't my main calling, but I'm pretty convinced that the fundamental tenants of NLP may be suspect. In fact I love the following quote from the founders of NLP:
We have no idea about the "real" nature of things, and we're not particularly interested in what's "true". The function of modelling is to arrive at descriptions which are useful
Bandler, R. and Grinder, J. (1979), Frogs into Princes: Neuro-linguistic Programming, Moab, Utah: Real People Press
I also love the publisher! Moab, Utah…makes me think of the brilliant musical for the non-pious, "The Book of Mormon" – also beautifully relevant for this observation.

An act of faith
NLP requires an act of faith, and most believers aren't particularly interested in a debate about whether their belief system is true or not. And, some may be offended by people like me saying rude things about their belief system. Since I have some friends who are NLP practitioners, I am careful not to offend these people by blaspheming. I do, however, wonder what NLP hell looks, sounds or feels like…
Like all belief systems that have bright, intelligent followers, NLP has to be consistent with empirical evidence. It may fail the scientific method but much of the surrounding advice is basically sound. "See the world from the others point of view" is a pretty much a fundamental NLP concept, but I'm sure its one of Coveys 7 habits (Think Win Win) and it's pretty much in line with Phase 1 of Killer Presentations, which makes it just plain common sense.
If you want to believe that modifying your language can help you communicate effectively, then I'm in agreement with you—if you need to call that NLP, well each to his own. I'm pretty sure that most religions include some degree of practical self-help. None of this should be thrown out just because the basic tenant seems unlikely.
Most courses I have seen based on NLP would be just as valuable without validating the content with the NLP philosophy. Given the lack of evidence, I would drop it and stick to actual science. There is a remarkable amount of research that can inform most of what I have seen passed off as NLP.
So if you're interested in this debate, take a look at some NLP literature and ask yourself how similar it sounds and feels like an advertisement for a religion.  I would love to hear your thoughts on this one. If you have observations, I'd love to read and respond to them. If you have statements of belief, I really don't want to offend anyone and probably won't respond.