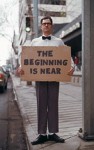 Begin with the End
Lewis Carole had it wrong: "begin at the beginning" said the King to Alice.
Writing 3000 sales presentations and critiquing the same number has taught me a lot, but if there is one thing that I know for certain it's that most people start off wrong.
Don't write the first slide of your presentation first.
Regardless of what the presentation is about, it's best to start with the end.  In a sales pitch, that needs some careful thinking. Most sales people think the desired outcome is simple, (TO WIN!) – but in my experience that's usually unrealistic. While it might be a good outcome from the whole sales process, it may not be a SMART goal from the presentation  (SMART being Specific, Measurable, Action orientated, Realistic and Timed.)
Some of the questions it prompts me to ask are:
Who is the decision maker?
Are they in the room?
Can they make a decision in the meeting?
Do they need to see anything else before they can make their decision?

So, tip #1 is to make sure you have a question to ask at the end of the presentation – your "close" – is SMART. Then you can start building a pitch.
In searching for a value proposition, do not ask "What?" but "Why?" Why would the prospect give you the order for business? Most people believe that this is easy to articulate; right up to the moment their mouths open to do so and then they realise that what seemed obvious isn't so. Rigour, challenge and persistence is my advice, keep asking "So What?" until you hear something that sounds like a good argument for action.
Then collect tangible proof that you can deliver this value to the client.
Proof Points
I like proof to be:
A testimonial
A process
A technology
An argument
Preferably visual, short and ideally poignant
Once you have this, you pretty much have your presentation. You can write the introduction last, introducing the information the audience will need to understand. The arguments that follow should rapidly (less than 3 mins) establish empathy with the prospect and credibility for the presenter, organisation and solution.
Clearly I could write a book about this (oh.. I have!) but that's the 300 word summary.