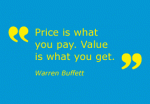 How Much Does it Cost?
Almost every time I sit to write a sales presentation for a new client, somebody wants to talk about their pricing. Rarely have I heard a convincing argument for cost being a value proposition.
"We are cheap"
I have two issues with this. The first is you have to be absolutely sure that you are the cheapest. If they have three quotes and you are not the cheapest then their conclusion is going to be that you are either lying (not good) or don't know your market (possibly worst.) Either way, you're making the case for them to actually choose the cheapest option. You lose!
Second, you are moving the conversation away from the value you offer to the cost of delivery, which breaks the fundamental principals of negotiation:
You cannot discuss cost until you have determined value.
"How Much?" is a buying sign. You don't ask this unless you see some value in the product or service you are talking about. Waiting until they ask gives you a clear indication of interest.
How you price vs what you price.
Even when they ask, I'd be tempted to describe the pricing model rather than the absolute cost of the deal—and I would always tie it to the outcomes. For example, m62 STAT is a fixed price engagement to help clients win big pitch presentations. Before we tell the client our price, we ask how much the deal is we are pitching for. I'm working on four at the moment and each is worth in excess of $500 million, even at outsourcing margins (2-3%), the price we are going to charge for a 78% win rate is immaterial.
Cost of doing vs. the cost of not.
In fact, my usual response isn't about the cost of our services, but the cost of losing. All four pitches will have bidding budgets of close to $1 million, making our fee irrelevant. Winning is the only thing that matters. For our clients, the question is always the same–what's the cost of getting it wrong, or the value of getting it right?
So when do you talk cost?
Simple. You have to get the client to ask for the price, then you put a value (to them) on the service (a big number compared to your fee) then you share the price (a small number compared to the value).