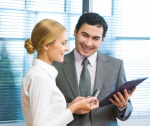 Technical vs Application Selling
So a few of us spent 5 days last week at a huge Broadcast Exhibition in Amsterdam, IBC 2012. We were there primarily to support our Strategic Partner, Ultimatte, but also to announce our partnership to bring high end video production values to the corporate presentation market.
The interesting thing is that wandering around this huge event (14 halls and 1300 stands), there wasn't much selling going on. Lots and lots of technical people having lots and lots of technical conversations, but the sort of conversations I would expect to overhear at a trade show were largely in the minority.
What I mean by this is that there are lots of questions from the visitors that ask, "How do you do that? How do I do this? I need to do this – what do you have that will help?" and almost exclusively the response is a detailed technical explanation of HOW to solve that problem.
But the inner salesperson in me wants to avoid answering these questions and ask WHY: "Why do you want to do that? Have you thought about what impact it would have if you did this?"
Our new Partners at Ultimatte are engineers through and through, and are really comfortable having the 'This is how it works' conversation. As a result, they are very cautious of my approach of stopping passersby and asking, "So do you ever have to record amateur presenters?", before proceeding to deliver a case for SightDeck if they say yes. Inevitably they want to know how it works and I have to pass it off to someone who actually knows. I'm clearly in the minority here, perhaps everywhere – I really don't care how things work, I care about what they can do for me!
So I write blogs but I have no idea how to publish them, I drive cars but don't know how to service them, and now I record presentations on our SightDeck but I… Well actually after 5 days of listening to the experts I do know how this thing works and can definitely say it's very cool. But still not as cool to me as what we can do with it…
For the first time in 15 years we can actually demonstrate what we do on the web. We can record us presenting our slides. We can take clients and record a version of their presentation for training, for marketing, for sales, even for fun! SightDeck will not only revolutionise how we market, but how we sell, and how we deliver our work to clients. It's the most significant breakthrough in presentation technology since InFocus launched the first Data Projector.
Technical selling has its place. Most people won't buy something they don't understand, but when it comes down to it you don't often buy a piece of technology just because it's cool… OK that's a lie, I just bought a GoPro camera with absolutely no application in mind – I just got excited on the GoPro stand… And come to think of it, I might have spent $200k on a SightDeck because it's cool, but I did have to make a business case for the loan… which meant a lot of commercial selling as well!
Check out our IBC 2012 presentations using our brand new SightDeck here.