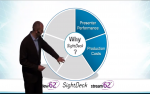 For fifteen years we have been making clients' presentations better and then training and coaching them to deliver amazing pitches, but we have struggled to show the world what we do. The problem is that when you put a presenter in front of his slides, and then both presenter and slides in front of a camera, it looks terrible. Screen images aren't bright. Carbon copies of their slides look terrible.
Your eye has an iris that automatically adjusts to allow the right amount of light to hit your retina, allowing you to see things that are dark, as well as bright. Carbon fibre irises in cameras can't respond in the same way, and so images that contain two subjects that give off different amounts of light don't record well with a single camera.
In a TV studio there are a handful of genius lighting experts that, given enough time and equipment, can produce a solution that would allow you to stand in front of a plasma screen and interact with it, but you'll need a $200k camera, as well as the studio, to get close to what we can produce using Ultimatte's ground breaking SightDeck technology.
In a nutshell, SightDeck projects a low contrast, dimmer version of your graphics onto a light sensitive screen. The system detects the shadow of the presenter and removes them from the image, projecting pure white light onto the presenter. The system then takes a feed of the presenter on a transparent background and places them over a bright carbon copy of their slides, thus producing an extremely high contrast, high quality composite of presenter and slides… in real time!
We think this is going to revolutionise the business presentation market, and we are launching two new services on the back of this amazing technology: stream62 and view62.
stream62 is to use this technology for the live broadcasting of clients' content, over IPTV, video conferencing or broadcast systems. We think this is a great solution for webinars, sales pitches or video conferences.
view62 is for recording content for video on demand systems; we see applications for websites, e-marketing tools and sales collateral that will blow your prospects away.
Business presentations just got a lot better.